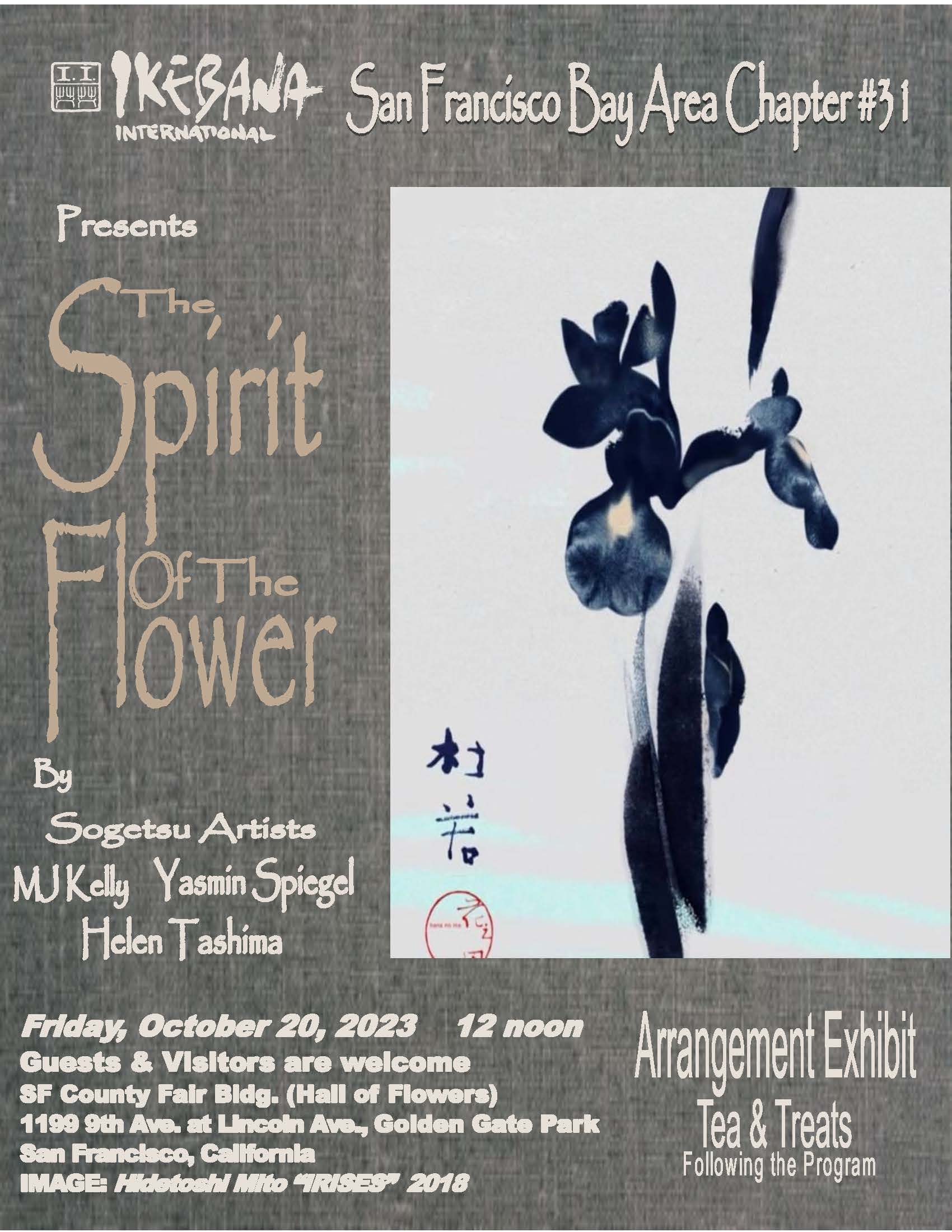 San Francisco Bay Area Chapter #31 
M.J. "Kitei" Kelly began her love for growing plants as a young child helping her father plant and care for the family's big garden. Since then she has directed her passion into growing and arranging flowers. She started by studying Western Arranging under Mary Fonseca and completed her certificate as a florist. Years later she decided to explore the art of Ikebana which she has admired for many years. At first she felt that this form of flower arranging was too rigid for her free spirit. This was before she worked with Sensei Kika Shibata, who is guiding her into the new and exciting world of Sogetsu. M.J. has studied since 2001, and has earned a Third Grade Teacher's Certificate. Her background is in interior design and art. She has been active as a past president for the Davis Flower Arrangers and the Sacramento Floral Design Guild. M.J. has also served in many leadership roles with the Sacramento Ikebana International.
Yasmin "Ki-do" Spiegel is a teacher in the Sogetsu School of Japanese flower arranging. She comes to Ikebana from a back ground in theatre, costume and set design, and the hobbies of stained glass and ceramics. She began studying with Kika Shibata Sensei, who is a second generation Master of Sogetsu Ikebana, in 2003. Yasmin holds a Third Level Teachers Certificate. She is at home with both traditional Sogetsu forms and also more modern sculptural arrangements. Pushing the envelope in the use of materials and composition is what draws her to Sogetsu, as well as the quality of "stopping your mind" when an arrangement is particularly engaging. Yasmin has provided demonstrations and taught classes in Sogetsu at Wakamatsu Farms, the Sacramento Home and Garden Show, Milpitas Library, Placerville Library, Davis Flower Arrangers, the Sacramento Floral Arrangers Guild and Ikebana International in both Sacramento and San Francisco. She is the President of the Sacramento Chapter of Ikebana International.
Helen "Kosuko" Tashima became a student of Mr. Shuko Kobayashi in 1991, taking a Sogetsu Ikebana class, which Mr. Kobayashi taught in Sacramento. Helen studied nine years with him, and then after he retired, she began studying with Kimi "Kika" Shibata. Mrs. Shibata was invited by Helen to teach in Sacramento in 2001, and has been teaching monthly Sogetsu Ikebana classes at the Shepard Garden and Arts Center. Helen is the coordinator of the class. Helen is the Treasurer for the Sacramento Chapter of Ikebana International. She provides floral arrangements for the Davis Shambhala Meditation Center and has taught Ikebana workshops at various Shambhala Meditation Centers in the Central Valley area, as well as teaching and demonstrating for the Jan Khen Po Children's School, the California Museum, the Davis Flower Arrangers, and the Sacramento Arrangers Guild. Helen regularly contributes arrangements to the Camellia Festival in Sacramento.