In the city fields
Contemplating cherry trees
Strangers are like friends…..Issa
Date and Time:           Friday, April 19, 2013 at 12:00 noon
Program:                     Fabulous Japanese Baskets with Ikebana
Presenter:                   Dorothy Gregor, Docent, Asian Art Museum
Program Chair:           Carole Gray
Location:                     San Francisco Co.Fair Bldg., 9th Ave. & Lincoln Way, Golden Gate Park
DAZZLING WORKS OF BASKET ART – WITH IKEBANA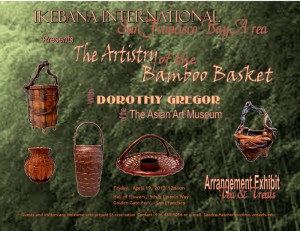 The stunning beauty and intricate craftsmanship of Japanese baskets is revealed on April 19 when  Dorothy Gregor, a docent at the Asian Art Museum, shows us the history and current state of basket art.  She will lead us through a panorama of Japanese baskets, many from the large and valuable Lloyd L.Cotsen collection at the Asian Art Museum. Our accompanying exhibition will feature ikebana with baskets from members' collections.
Few ikebana enthusiasts are without at least one basket used for arrangements which combine the basket as container and an arrangement.  Some basket makers consider flowers and baskets as integral to each other.  But Japanese baskets also stand alone as superb works of sculptural art.  They are the result of decades of training in a disciplined master-apprentice tradition.  Ms. Gregor will show the limitless imagination and incredible craftsmanship of basket making.
Ms. Gregor became fascinated with Japan and things Japanese while still a small child.  Her aunt lived in Asia and often sent her young niece gifts, sparking her lifelong interest, knowledge, and appreciation of Japanese art.  After retiring from a career as Director of both the UC Berkeley and UC San Diego Libraries, she became a docent for the Asian Art Museum in 1997.  In this capacity she lectures and leads visiting groups through the Museum's various collections.
On a recent trip to Japan, Ms. Gregor visited Beppu to visit basket makers.  She came away as the proud owner of a basket made by an apprentice of famed basket maker Shono Sounsai, the first basket maker named a Living National Treasure by the Japanese government.
Event Review
Also of Interest: