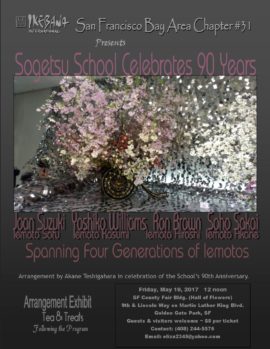 Joan Suzuki began teaching in San Francisco 1953 while assisting her mother Uchida who introduced Sogetsu to the Bay Area. In 1968 she was awarded the Model Teacher Award (Mohan-sho) and in 1973 Sofu Teshigahara, Sogetsu's Founding Headmaster conferred the highest rank of the school, Riji, on her. His son, Hiroshi and his granddaughter Akane would go on to award Sogetsu Elyo-sho award at separate times on Mrs. Suzuki. Consul General Jun Yamada recently gave her a commendation for promoting friendship between the US and Japan thru ikebana. In May 2017 at the Sogetsu 90th Anniversary Ceremony in Japan she was awarded the Sogetsu Overseas Honor Award from Iemoto Akane Teshigahara. She is a charter member of I.I. Chapter 31 and advisor; charter member of ITF and Past President; Director Emeritus for Sogetsu SF Bay Area Branch and Active teacher and demonstrator locally and out-of- state.
Yoshiko Williams is a Riji rank ikebana teacher who has been studying floral design for over three decades. She first studied floral design at the College of San Francisco, beginning with western floral design classes but then she concentrated on Sogetsu ikebana classes from Mrs. Soho Sakai.
Yoshiko is originally from Yokohama, Japan and moved to San Francisco in 1969. Now, she lives and teaches in San Mateo.
She currently is a student of Mr. Tetsunori Kawana, a world-renowned Sogetsu teacher. Over the last several years, she has regularly visited Sogetsu headquarters in Tokyo and attended Mr. Kawana's and others' seminars, lectures, and workshops. She has also exhibited and helped with Sogetsu headquarters' annual flower shows in Japan.
Ron Brown brings innovative enthusiasm to ikebana audiences and his students. His interest in ceramics brought him to study ikebana with Burleigh Fedanzo and later with Shuko Kobayashi until his retirement. In 2007, Ron became a student of Kika Shibata, and continues to study with her today. Ron holds the rank of Komon.
Ron has been actively pursuing his passion for ikebana as a second career since his retirement from his career as a vintner. He teaches ikebana classes in Sonoma and Marin, demonstrates and exhibits often for many groups throughout California and beyond. His travels have taken him to Panama City, Panama; Sao Paulo, Brazil; Ashville, North Carolina; Arizona, and Florida. This year Ron went to Japan for the 90th anniversary celebrations of the Sogetsu School's founding and the Ikebana International 11th world convention.
A former president of our chapter Ron has held many positions throughout his long association with the organization. He is the Director of the Sogetsu San Francisco Bay Area Branch and a member of the Sogetsu Teacher's Association in Tokyo and of the Ikebana Teachers Federation in San Francisco.
Soho Sakai was first introduced to the art of Sogetsu Ikebana at the age of eighteen in Kumamoto, Japan. She never imagined she would teach however, her teacher Kojima Sensei, encouraged her to "sow the seeds to the American people." When leaving Japan in1961, these words went deep within her and took root. Sogetsu had charmed her and she was addicted bringing it to her new life in America.
Soho holds the rank of Riji, the highest teaching degree of the Sogetsu School. In March 2004, She received the prestigious "SOGETSU SHO" award, and in March 2007, the Sogetsu 80th Anniversary Commemorative Overseas Award. In January 2014, She received Bunka Hall of Fame Award from Northern California Japanese American Association. In this April 2017, she received the Oversea Honor Award at the 90th Sogetsu Anniversary Celebration. And SHOREI SHOW in March 2017 from Sogetsu School.
She is in high demand as a demonstrator and is the floral designer for Oracle founder and CEO Mr. Larry Ellison's residence in Woodside to make 36 arrangements weekly. Currently she is teaching in Orinda, Albany and gives private lessons at her studio in Richmond. She says, "I am very lucky: I love people, flowers, nature, and what I am doing.
Demonstration
Exhibition
Also of Interest: