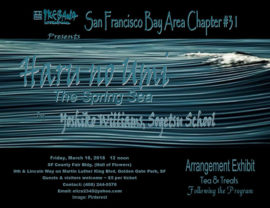 Yoshiko Williams was born in Yokohama Japan and came to San Francisco in 1969.
She assisted in her Aunt's flower shop while attending Business College. While working as an
accountant she took the floral design course at City College of San Francisco where she started
studying Sogetsu Ikebana with Soho Sakai. Yoshiko became a member of the American Institute of
Floral Designers in 1964. She continued studying Ikebana and attained the title Riji, the highest
teachers rank in Sogetsu School. Recently she has been studying with Tetsunori Kawana, Master
teacher and world recognized Ikebana artist. She recently participated in Kawana's study group
Ikebana Flower show at Sogetsu plaza, known as "Tengoku" designed by Isamu Noguchi in Tokyo,
Japan. She is a member of Ikebana International San Francisco, Sogetsu San Francisco Branch and
Ikebana Teachers Federation. She is currently serving as president of Ikebana Teachers Federation.
She teaches in San Mateo has participated in ikebana with the Millbrae Japanese Cultural Festival
Also of Interest: