Kayoko Suiyo Fujimoto, Ohara School
Nobu Kurashige, Ikenobo Ikebana
Michiko Hosoda, Chiko School
Sumi Metz, Aratame School
Fusako Seiga Hoyrup, Wafu School
Joan Yusui Suzuki, Sogetsu School
On January 16, 2015 the chapter observes its 55th anniversary. Teacher Advisors from six schools of ikebana represented in the chapter's membership will create arrangements onstage and Past Presidents of the chapter will exhibit ikebana.
The program features:
Kayoko Suiyo Fujimoto, a Grand Master of Ohara School, has brought ikebana inspiration, brilliance, and a wonderful sense of humor to the chapter with demonstrations, flower shows, and exhibits for many decades. In 2010 her achievements were recognized by the government of Japan when she received the prestigious Order of the Rising Sun, Gold and Silver Rays. This honor joined a long list of awards for her accomplishments, beginning in 1953 in Japan when she passed three difficult ikebana examinations judged by Headmasters of major ikebana schools. Her name is inscribed on a tablet at Ohara headquarters in Kobe. In 2008 she was inducted into San Francisco's Bunka Hall of Fame. Fujimoto sensei also is affiliated with the Urasenki Tankoukai San Francisco and has been its Counselor since 2007.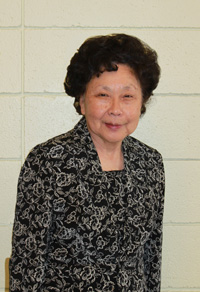 Michiko Hosoda has expressed her love of ikebana since an early age and she now leads a group of students in the study of Chiko Ikebana. Hosoda sensei has been a teacher throughout her life, first in public schools and in Mountain View's Japanese Language School. In 2006 she polished her teaching abilities with a visit to Japan to study with the Headmistress of Chiko School. In addition to leading Chiko School locally, she also studies Ikenobo Ikebana and is in charge of the Flower Ministry at her church in Sunnyvale. Mrs. Hosoda brings a broad interest and knowledge of many forms of ikebana to the chapter as well as her commitment and love of teaching.
Fusako Seiga Hoyrup is Principle Teacher of the Wafu School and President of Wafu's California chapter. She studied under the direction of Wafu School Headmaster Wafu Teshigahara in Japan before relocating to the United States and began to teach here. For four decades Hoyrup sensei has led a large group of students in presenting extraordinary flower shows and she has received many public commendations and awards for her contributions to the community. She holds Wafu's highest degree, Shukan. Hoyrup sensei has lectured and demonstrated ikebana throughout the USA and abroad in Australia, India, South Africa, Denmark, and Brazil.
Nobu Kurashige is Head Professor and Managing Director of Ikenobo Ikebana Society of America. She came to San Francisco to assume this post in 2010. She has lectured and demonstrated Ikenobo Ikebana in more than 50 countries at the request of the Foreign Ministry of Japan. She holds a Master's degree in International Culture from Yamaguchi Prefectural University. She worked at Bank of Tokyo in New York and upon returning to Japan she studied at Ikenobo Kensyugakuin training school, receiving the highest honors in all classes. Among many other teaching positions, she has taught at Ikenobo Junior College and has been a lecturer at Doshisha University.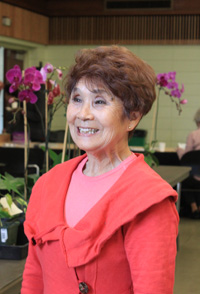 Sumi Metz has taught Ikebana for more than 30 years and is President of Aratame School of Ikebana, USA. She has been a member of this chapter since 1980 and has volunteered for many roles in addition to numerous demonstrations and exhibitions. Aratame is a relatively young school, established in 1993. Sumi sensei was invited by Aratame Headmaster Seigyo Aratame to join the school and soon appointed her to lead the school in this country. She often demonstrates for other chapters in this country and was selected as Oversea Member Demonstrator for Ikebana International's 9th World Convention in Tokyo.
Joan Yusui Suzuki began studying Sogetsu Ikebana in Tokyo and received her first teaching certificate at the age of 16. Returning to San Francisco Suzuki sensei assisted her mother, Shunei Uchida, in teaching classes. Mme. Uchida first introduced Sogetsu to the San Francisco Bay Area. With nearly six decades of teaching, her awards are many and include awards from three Sogetsu Headmasters: Sofu Teshigahara, Hiroshi Teshigahara and Akane Teshigahara. In 2013 she received the Bunka Hall of Fame Award from the Japan America Association. She is a charter member of this chapter and the Ikebana Teachers Federation. She is Director Emeritus of the Sogetsu San Francisco Bay Area Branch.

Also of Interest: