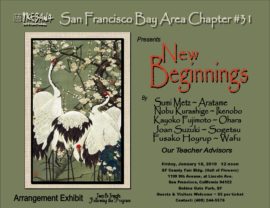 Demonstration by Our Teacher Advisors
Kayoko Fujimoto began teaching Ohara ikebana in 1952 after coming to the USA from Japan with her husband and two young sons. She has distinguished herself not only in her local ikebana activities but has been recognized by the Emperor of Japan in 2010 with the prestigious Order of the Rising Sun, Golden and Silver Rays for her outstanding service to Ikebana and promoting the traditional culture Of Japan. She had the rarified lifetime membership awarded to her by the Ohara School, received the Bunka Hall of Fame induction for contributions to Japanese ikebana and enhancing community relations. She is also a charter member and founder of both I.I. and ITF in the Bay area as well as a member of the Ohara Chapter, North American Ohara Teachers' Association, and the Suiyo Flower Club. She continues to actively teach and demonstrate.
Fusako Hoyrup is a principle teacher of the Wafu School of Ikebana and president of the school's California chapter. She had devoted more than 50 years to the study and teaching of ikebana. She holds a Shukan Degree, the highest achievement in the Wafu School. She has represented the Wafu school by giving lectures and demonstrations in Australia, Brazil, India, South Africa and throughout the United States. She was inducted into the Bunka Hall of Fame in 2010 for her excellence and contribution to ikebana. In 2015, the Consul General of Japan San Francisco, recognized her for her continuous effort to share the art of ikebana in California promoting friendship and a deeper understanding between California and Japan.
Nobu Kurashige was born in the Kochi prefecture, on the island of Shikoku in the south of Japan. She grew up in Hiroshima and earned a bachelor's degree in English at the University of Tokyo and a master's degree in architecture from Japan's Yamaguchi Prefecteral University. She is an Ikenobo Sokataku professor, the highest of 18 rankings. She became the first woman commissioned, in 2010, to be Visiting Instructor to the Ikenobo Ikebana Society of America in its 50-year history. She has lectured and conducted workshops on Ikebana in more than 50 countries, including at Harvard and Stanford universities in the United States. In addition, she consults with museums, colleges and businesses on Ikebana installations. In 2017 she formed Nobu Studio where she teaches in San Francisco.
Sumi Metz has a deep understanding and thorough knowledge of ikebana and is well known for her vibrant, fascinating creations. In 2000 Aratame Headmaster Seigyo Aratame invited Sumi to join his school which was founded in 1993 and asked her to become his assistant; later appointing her President of Aratame-ryu USA. Having joined I.I. in 1980, she has serving on the board of directors several times. She also is a member of the ITF. She demonstrates and exhibits for I.I. as well as businesses, schools, and other organizations in the Bay Area. Her work has been seen at the Asian Art Museum, the San Francisco Flower and Garden Show, Bouquets to Art at the de Young Museum, and the San Francisco Cherry Blossom Festival. She also has exhibited in Paris, Toronto, Canada, Monterey, CA. A special honor came when she was selected as the Oversea Member Demonstrator for I.I.'s 9th World Convention in Tokyo. She also provides ikebana instruction for school children in Cupertino.
Joan Suzuki began teaching in San Francisco 1953 while assisting her mother Uchida who introduced Sogetsu to the Bay Area. In 1968 she was awarded the Model Teacher Award (Mohan-sho) and in 1973 Sofu Teshigahara, Sogetsu's Founding Headmaster conferred the highest rank of the school, Riji, on her. His son, Hiroshi and his granddaughter Akane would go on to award Sogetsu Elyo-sho award at separate times on Mrs. Suzuki. She was inducted into the Bunka Hall of Fame in 2012. Consul General Jun Yamada awarded her a commendation for promoting friendship between the US and Japan thru ikebana. She is a charter member of I.I. Chapter 31 and advisor; charter member of ITF and Past President; Director Emeritus for Sogetsu SF Bay Area Branch and Active teacher and demonstrator locally and out-of-state.
Also of Interest: