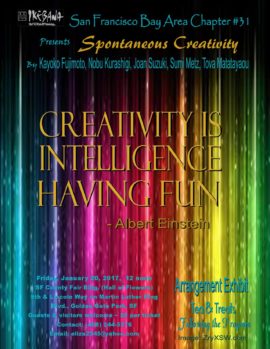 Five of our Best Demonstrate "Spontaneous Creativity"
A special challenge faces our demonstrators this month when they are given containers and materials they have not been shown until moments before demonstrating. It is their task to bring forth an arrangement from what they have been
given by lottery. As they are among our best of the best, the creativity will be flowing.
Kayoko Fujimoto began teaching Ohara ikebana in 1952 after coming to the USA from Japan with her husband and two young sons. She has distinguished herself not only in her local ikebana activities but has been recognized by the Emperor of Japan in 2010 with a prestigious medal, had the rarified lifetime membership awarded to her by the Ohara School, received the Bunka Hall of Fame induction for contributions to Japanese ikebana and enhancing community relations. She is also a charter member and founder of both I.I. and ITF in the Bay area as well as a member of the Ohara Chapter, North American Ohara Teachers' Association, and the Suiyo Flower Club. She continues to actively teach and demonstrate.
Nobu Kurashige has a distinguished history of achievements advancing knowledge and appreciation of Japanese culture. She is the Managing Director of the San Francisco Office for Ikenobo Ikebana and Head Professor of the Ikenobo Ikebana Society of America. Since 1986, at the request of the Japanese government, Professor Kurashige has lectured and demonstrated ikebana in over 50 countries in Asia, Europe, Middle East, South Africa and Latin America. Some of her invitational exhibitions and displays include the Bonn National Museum in Germany, Reitberg Museum in Zurich, and the Tokyo National Museum.
Joan Suzuki began teaching in San Francisco 1953 while assisting her mother Uchida who introduced Sogetsu to the Bay Area. In 1968 she was awarded the Model Teacher Award (Mohan-sho) and in 1973 Sofu Teshigahara, Sogetsu's Founding Headmaster conferred the highest rank of the school, Riji, on her. His son, Hiroshi and his granddaughter Akane would go on to award Sogetsu Elyo-sho award at separate times on Mrs. Suzuki. Consul General Jun Yamada recently gave her a commendation for promoting friendship between the US and Japan thru ikebana. She is a charter member of I.I. Chapter 31 and advisor; charter member of ITF and Past President; Director Emeritus for Sogetsu SF Bay Area Branch and Active teacher and demonstrator locally and out-of-state.
Tova Matatyaou was introduced to Wafu School ikebana by the love of nature and flowers. She began Wafu ikebana classes in 1982 with Fusako Hoyrup and continues her studies to this day. In1988 Mrs. Matatyaou received her teaching certificate and has been teaching Wafu ikebana ever since. She holds the Wafu School's highest rank of Shukan. Currently, she is teaching through the Fremont Union High School District. Tova is a member of I.I. and a board member of ITF. Through the years Tova has exhibited and demonstrated in numerous ikebana shows and brought her art to many community events.
Sumi Metz has a deep understanding and thorough knowledge of ikebana and is well known for her vibrant, fascinating creations. In 2000 Aratame Headmaster Seigyo Aratame invited Sumi to join his then-fledgling school which was founded in 1993 and asked her to become his assistant; later appointing her President of Aratame-ryu USA. Having joined I.I. in 1980, she has serving on the board of directors several times. She also is a member of the ITF. She demonstrates and exhibits for I.I. as well as businesses, schools, and other organizations in the Bay Area. Her work has been seen at the Asian Art Museum, the San Francisco Flower and Garden Show, Bouquets to Art at the de Young Museum, and the San Francisco Cherry Blossom Festival. She also has exhibited in Paris, Toronto, Canada, Monterey, CA. A special honor came when she was selected as the Oversea Member Demonstrator for I.I.'s 9th World Convention in Tokyo. She also provides ikebana instruction for school children in Cupertino.
Demonstration
Exhibition
Also of Interest: