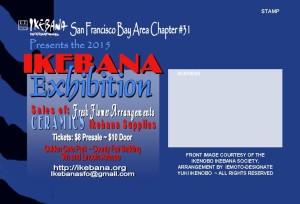 Review of the Event:
Ikebana International, San Francisco Bay Area Branch, presented its 30th Ikebana Flower Show
the weekend of March 21 & 22, 2015. A gala ribbon-cutting ceremony opened the show
on Saturday, March 21, 2015 at 9:45 a.m. at the entrance of the San Francisco County Fair Building;
9th Avenue & Lincoln Way; Golden Gate Park. Taiko by Ji Ten Taiko Group welcomed visitors
to the exhibition of more than 100 ikebana arrangements by seven different schools of ikebana.
Ikebana arrangements were for sale, as well as vases by local potters and ikebana equipment and materials.
Exhibition hours: 10:00 a.m. – 4:00 p.m. both days.
                           Saturday, March 21                                                    Sunday, March 22
12:00 noon         Fusako Hoyrup, Wafukai                                              Nobu Kurashige, Ikenobo
2:00 p.m.             Kika Shibata, Sogetsu                                                  Sumi Metz & Tuan Tran, Aratame
Opening Ceremony and School Arrangements
Floral Focus Arrangement by Seven Schools
Demonstration by Fusako Hoyrup, Wafu-kai
Demonstration by Kika Shibata, Sogetsu School
Demonstration by Nobu Kurashige, Ikenobo
Demonstration by Sumi Metz and Tuan Tran, Aratame School
Members Exhibition (Alphabetical order by Last Name)
Also of Interest: