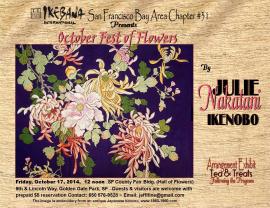 Julie Saiki Nakatani is a Senior Professor of Ikenobo Ikebana, 3d level, with the teaching degree of Katoku. She began studying Ikenobo Ikebana while still in grammar school with Mizuki-sensei. She continued to take lessons from her mother and does so today. Since 1970 she has taken several courses at Ikenobo headquarters in Kyoto. Currently she teaches ikebana at her home in Cupertino, and in San Francisco and Marin. She also has taught at the Quinlan Community Center in Cupertino and at the Mandarin Chinese School in Saratoga.
Born in Tokyo, Mrs. Nakatani was nurtured in the arts from an early age by her talented parents Susumu and Kinsui Saiki. In the 1950s the family returned to Mr. Saiki's birthplace in California and eventually settled in San Francisco. From ages four to 14 Julie danced both ballet and classical Japanese dance. In 1972 she went to Japan to receive a Natori degree from the Hanayagi School of Dance.
A frequent demonstrator, her ikebana is often seen at various events including the Cherry Blossom Festival, Japan EXPO, Obon Festivals and cultural and arts clubs. Julie's work also has been displayed at Bouquets to Arts, the Asian Art Museum, Ikebana International, Ikenobo Ikebana Society of Northern California, Tanabata Ikenobo Exhibits, Buddhist Temple Obon Festivals, and she has assisted visiting Ikenobo professors from Japan. She has served as 1st Vice President of the Ikenobo Ikebana Society of Northern California, President of the Ikebana Teachers Federation, and is a member of Ikebana International.
Also of Interest: