Sharon Zuishu Krawetz
studies with Fusako Seiga Hoyrup and holds the Gakukan degree from Wafu School. She is a vice-president of the California Wafukai Chapter. She is a past president of Ikebana International, San Francisco Bay Area Chapter. Sharon also is Chair for the chapter's biennial Flower Show scheduled for March, 2015. She is also affiliated with the Ikebana Teachers Federation.
After nearly 40 years of arranging ikebana, Sharon continues to take classes that are never repetitive, always using new combinations of materials and containers. She finds the concentration required while arranging, the joy of being with fresh flowers, and the appreciation of nature's beauty brings a refreshing energy to her life.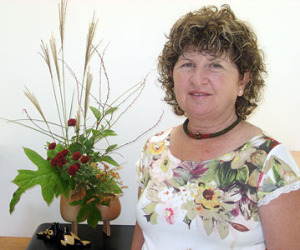 Tova Seiko Matatyaou holds Wafukai's highest teaching rank of Shukan, received from her teacher of three decades, Fusako Seiga Hoyrup. Born in Israel, Tova arrived in the USA in 1977 with her husband and son. To express her love of nature and flowers, she began Wafu ikebana classes in 1982. As her skill increased, she attained various degree in Wafukai and began to teach in 1988. She now has a group of devoted students and is known for her lucid, gentle instructions, emphasizing harmony among flowers, vase and the environment.
Tova is a long time member of this chapter and the Ikebana Teachers Federation. She has exhibited and demonstrated ikebana in many flower shows and at community events. She also enjoys gardening, beading and knitting.
Also of Interest: