Friday, September 20, 2013
SEVEN GRASSES OF AUTUMN:
AKINO NANAKUSA Demonstrations by Teacher Advisors from Six Schools
Program Chair: Sandra Hatcher Kayoko
Friday, September 24, 2013, at 12 noon, at the San Francisco Fair Building (Hall of Flowers)
9th & Lincoln Way in Golden Gate Park, San Francisco
Guests and visitors are welcome with prepaid $5 ticket.
About The Participants: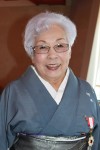 Kayoko Suiyo Fujimoto, Grandmaster of Ohara School, has led a large and devoted group of Ohara teachers and students for six decades.  Her accomplishments and honors include the Order of the Rising Sun, Golden and Silver Rays, from the government of Japan, and induction into the Bunka Hall of Fame in 2008, recognizing her contributions to Ikebana and Japanese cultural arts.  In addition to her role as Teacher Advisor to this chapter, she is Advisor to the Ohara Ikebana School of Northern California Chapter and Counselor of the Chado Urasenke Tankoukai San Francisco Association.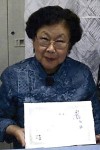 Michiko Hosoda, Teacher Advisor for Chiko School, studied with Soke Kobai Naruse  and Headmistress Kosen Naruse in Japan in 2006, earning permission to teach Chiko Ikebana in the USA.  Earlier she studied other schools of ikebana, broadening her knowledge of the art. Hosoda-sensei has an impressive history as a eacher. For 20 years she was a Learning Center Specialist for the Sunnyvale School District.  She also has been an active community volunteer, teaching ikebana for the Fremont Union High School District and at senior centers in Sunnyvale and Cupertino.  She has served on this chapter's board of directors as Exhibition Chair.
Fusako Seiga Hoyrup is President of the Wafu School of Ikebana, California Chapter.  She began her studies in Japan in 1957 with the late Headmaster Wafu Teshigahara.  She holds the Shukan Degree, the highest rank in the school.  She has taught ikebana since 1969 and often represents Wafukai internationally.  Hoyrup-sensei has staged many Wafu School ikebana flower shows in Cupertino which attract hundreds of visitors.  She has received numerous community awards including Distinguished Artist of the Year (1995) and Asian American Hero in 2004. She also is immediate Past President of the Ikebana Teachers Federation.
Nobu Kurashige is Professor of Ikenobo Ikebana and Managing Director of Ikenobo Ikebana Society of America.  She holds a Master's degree in International Culture from Yamaguchi Prefectural University and studied ikebana at the Ikenobo Kensyugakuin training school after which she taught at the Ikenobo Junior College in Kyoto and was a lecturer for Doshisha University.  Kurashige-sensei is widely traveled and since 1986 she has lectured and demonstrated ikebana in more than 50 countries abroad, often at the request of the government of Japan.  She moved to San Francisco in 2010 to accept her present position.
Sumi Metz has studied and taught Ikebana for more than 30 years.  Born and raised in Japan, she moved to California in 1965.  She has been an active member of this chapter since 1980, demonstrating, exhibiting, and currently serves on the board of directors.  In 2000 Aratame Headmaster Seigyo Aratame appointed her President of Aratame USA.  She has demonstrates and exhibits ikebana in various California cities as well as Toronto, Canada and Paris.  Metz-sensei installs ikebana weekly in the offices of a Silicon Valley computer firm and also volunteers at Bay Area Japanese festivals.  She is a member of the Ikebana Teachers Federation.
Joan Yusui Suzuki holds Sogetsu School's highest rank of Riji.  She is a charter member of this chapter and of the Ikebana Teachers Federation and Director Emeritus of Sogetsu San Francisco Branch.  Suzuki-sensei has received many awards during her career.  In 2013 she received the cultural Bunka Hall of Fame Award from the Japan America Association.  She received the Sogetsu Honor Award at Sogetsu's 80th Anniversary Ceremony.  In a parallel career, she was Regional Administrative Manager for Japan Airlines in San Francisco for more than 40 years but also continued to teach ikebana and participate in workshops locally and elsewhere.
Demonstrator Arrangements
Also of Interest: