Autumn Beauty
Friday, November 15, 2013
Chizuko Nakamura, Ikenobo Ikebana
BRILLIANT AUTUMN COLORS GREET THE HOLIDAYS
November brings us a special treat when Mrs. Chizuko Nakamura creates autumn arrangements.  Before the holidays sweep us into a whirl of preparations, we can relax and take time to enjoy the serenity of elegant Ikenobo Ikebana as she reveals the marvels of autumn's finery in stunning Ikenobo arrangements.
Mrs. Chizuko Nakamura
Mrs. Chizuko Nakamura first studied ikebana with her mother in Japan, her birthplace.  After coming to the USA in 1966 she studied with Mrs. Shumika Tada and for more than four decades she has pursued her studies and perfected her art in Ikenobo Ikebana.  She has attended a training course at Ikenobo headquarters in Japan, furthering her expertise and skill.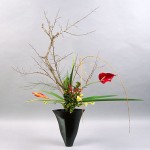 Mrs. Nakamura has received one of Ikenobo's highest diplomas — Sokatoku.  Known for the elegance of her work, she is a popular demonstrator, exhibits frequently, and participates in the annual Ikenobo Ikebana flower show, as well as those of Ikebana International.  She has exhibited for the Ikebana Teachers Federation at the Cherry Blossom Festival, the Japanese Community Center, Asian Art Museum, De Young Museum, and libraries. Mrs. Nakamura teaches at her home and at the Church of Perfect Liberty in San Francisco.  She is an active member of the Northern California Chapter of the Ikenobo Ikebana Society and currently is its Second Vice President.
Demonstrator's Photos:
Also of Interest: